"Cloud warehouse management system", or "cloud WMS." If you're a warehouse manager, you've likely heard this term, but what exactly does it mean?
Today, the terms "cloud-based" and "cloud computing" are widely used in relation to all kinds of topics.
Understandably, this makes it difficult for non-tech people to assess whether they need something like a cloud-based WMS.
In this article, we're going to talk about what cloud computing is, explain how it supports cloud management systems, and help you identify the features you need in cloud WMS software.
BONUS: Before you read further, download our Warehouse Management Software Whitepaper to see how Logiwa uses real-time data to help you get up to 100% inventory accuracy and execute advanced fulfillment strategies like wave planning.
What Exactly Is The Cloud and Cloud Computing?
Today, it feels like everything is in "the cloud." Our photos, our music, and our TV shows — but, what exactly is the cloud?
Before we can understand the cloud, we need to understand what came before the cloud.
Previously, if you wanted to store large amounts of data, develop applications to carry out functions like customer transactions, and give employees access to those applications, you needed your own data center.
Your data center would have consisted of stacks of servers that your company's network used to get its work done.
So, if you were a warehouse owner with an on-premise system, you would:
Store your inventory data in your on-premises servers (also called "on-prem" servers)
Develop a WMS application (or install an application licensed by a WMS provider)
Use the application to run warehouse operations like putaway, picking, and packing
Setting up the necessary infrastructure is hard, and maintaining it is even harder. You'd need to set up and manage features like these in your data center:
Power subsystems
Uninterruptible power supplies
Ventilation
Cooling systems
Fire suppression
Backup generators
External network connections
Building your own data center costs about $200 per square foot. This can be wildly expensive for a company that's just starting out. Perhaps this is why so many warehouses rely on inefficient methods that don't easily scale like spreadsheets or - horror of all horrors - pen and paper.
What's a Warehouse to Do?
The solution is a "catch 22." You need a WMS to grow, but you can only afford an on-premise WMS after you've grown.
In the modern world, we have the availability of cloud-based software solutions - services built and managed by a vendor and licensed (or, essentially, rented) to users. In this context, a cloud WMS is a ready-made application where you pay only for what you use. It leverages infrastructure that's already built and managed by cloud-computing service providers like Amazon Web Services and Microsoft Azure.
When you need a greater degree of service, you simply buy more without going through the process of building or enhancing your own data center.
Without the need to manage and maintain a data center, you can focus your company on your actual business.
Advantages and Disadvantages of Cloud-Based Enterprise Systems
As with anything, there are pros and cons to having a cloud-based enterprise system, like a cloud WMS.
| | |
| --- | --- |
| Advantages of Cloud WMS | Disadvantages of Cloud WMS |
| Lower upfront costs | Potential for higher costs over the long term based on usage (compared to a large upfront fee for an on-premise solution) |
| Cybersecurity needs are managed by a vendor | You rely on your vendor for data security, which can be a pro or con, depending on their security standards compared to your own |
| Relatively quick implementation timeline | Fewer customization options |
| Routine, scheduled updates and upgrades from a vendor | |
| No need for future hardware upgrades or investments | |
| Predictable recurring cost if usage levels are consistent | |
What Are The Benefits of a Cloud WMS?
A cloud WMS presents a number of benefits for your warehouse, its operations, and its continuous improvement efforts.
"Out-of-the-Box" or "Off-the-Shelf" Functionality
With a cloud WMS, you're up and running in no time.
If you're a new, relatively small warehouse, this is the best solution for your company. You can benefit from a sophisticated warehouse management system that introduces efficiency to your facility without blowing your budget on the IT infrastructure required for a traditional on-premise WMS.
One of the oft-cited drawbacks of cloud WMS software is the lack of customization. But, remember, this is relative. Cloud WMS providers design their solutions to be as useful as possible for warehouses. In addition, for an added cost, you can often work with your cloud WMS provider to customize your system.
In fact, cloud WMS solutions come with a range of features already built in, including:
Multi-warehouse management
Complete fulfillment optimization
Dynamic putaway algorithms
Plug-and-play sales channel integrations
Demand-driven replenishment
Automated job/task management
Real-Time Inventory Management
A successful warehouse has an accurate snapshot of its inventory at any given time. What's more, this snapshot is comprehensive and derived from all possible sources.
One of the biggest pains for warehouse operators is manually gathering data from several warehouses and systems and reconciling these figures to arrive at an accurate inventory count.
A cloud WMS with an inventory management system allows you to update your inventory in real time. This is executed in part by sensors throughout your system - whether mobile scanners or RFID scanners - that capture information about incoming and outgoing products.
Moreover, a cloud WMS is designed to be integratable, allowing you to easily capture and reconcile data from several sources, including your order management system or points-of-sale.
Easy Integrations With Related Systems
Many on-premise enterprise resource planning systems (ERPs) are designed as monolithic entities. On the other hand, a cloud WMS is designed to be modular, flexible, and integrative. With a cloud WMS, you can integrate with a wide range of related systems including:
Your existing inventory management system
Your transportation management system
Your order management system
Your yard management system
Your various sales channels (e.g., physical retail locations, e-commerce channels, third-party marketplaces)
Plus, most of today's cloud WMS solutions are designed to integrate with a number of common ERP systems including Microsoft Dynamics and Oracle.
Accessibility From Any Device, In Any Location
One of the biggest benefits of cloud-based warehouse management software is that it frees you from dedicated devices. With on-premise software, you may be able to install your WMS on your home computer, but, for the most part, you're restricted to your systems at work.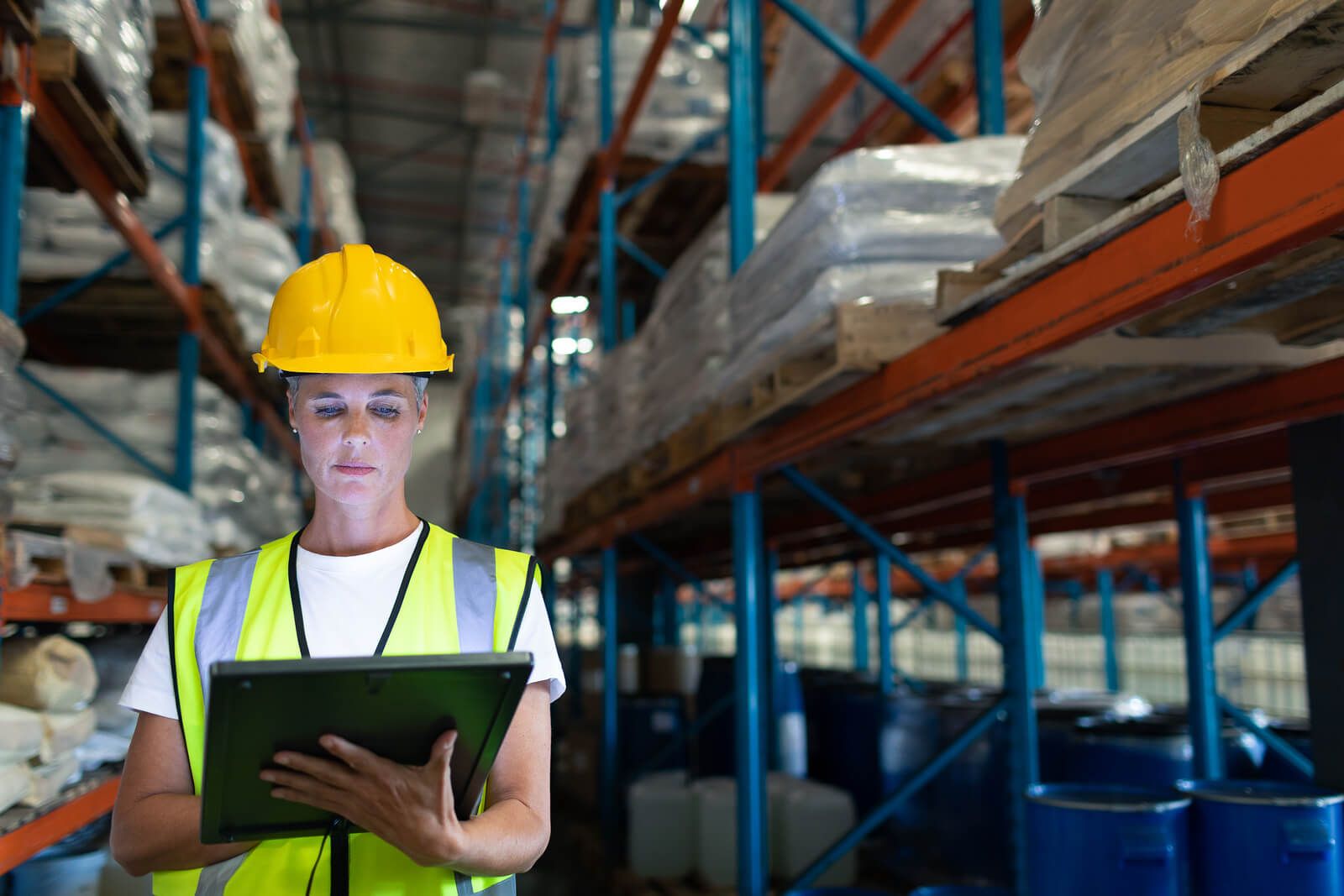 With cloud-based software, you can log into your system from any device in any location where there's an internet connection. This allows you to generate and view reports from home or while traveling and enables you to maintain visibility over your warehouse operations even when you're not there.
Limited Hardware Upgrades
Cloud WMS providers design their solutions to work on as many devices as possible. This means that if you already have enough computers, tablets, or mobile phones within your warehouse, you don't have to spend a lot of money on new hardware to support your cloud WMS.
Managed Cybersecurity
One popular objection to a cloud WMS is the fact that you don't hold your data - someone else is managing your cybersecurity.
Think about it this way: Does your warehouse have the internal resources and processes in place to protect your data? Do you have the expertise to manage the increasingly sophisticated landscape of cyberthreats? If the answer is no, then your best bet is a cloud WMS.
Today's cloud solutions are designed with advanced security features to protect valuable customer data. Your vendor doesn't want a data breach any more than you do, so they're incentivized to apply security best practices.
User Access Control and Permissions
A cloud WMS makes it easy to onboard new employees and set them up with login credentials. Plus, you can create different user levels to give certain workers access to specific modules of your WMS. Credentials and access levels can be easily updated as needed within the cloud WMS's settings, allowing you to control information sharing within your warehouse.
Only One Vendor to Work With
Rather than you managing a relationship with a cloud services company, your cloud WMS provider manages that relationship on your behalf. They deal with configuration, computing costs, and more while you simply benefit from using their software-as-a-service (SaaS) solution.
Lower Upfront Cost
Because a cloud WMS is delivered through the internet, you don't have to worry about an expensive deployment. Moreover, you can predict how much money you'll be spending each month, based on your provider's fee schedule and the number of users you'll have.
On the other hand, an on-premise system has a significant amount of costs, both upfront and ongoing. For example, you'll have to pay the cost to set up your IT infrastructure, which, as discussed earlier, can cost as much as $200 per square foot.
You'd then have to pay the licensing fee for the WMS software itself. Plus, there are maintenance and support costs to consider, which can cost as much as 25% of your annual fee. With a cloud WMS, this price is built into the monthly fee, giving you full transparency.
Automated Upgrades and Updates
With a cloud WMS, updates and upgrades are managed by the provider. They automatically deploy updates during scheduled downtime sessions. This continual support ensures your cloud WMS has the latest features and security updates.
On the other hand, on-premise WMS solutions don't always receive consistent updates. And, to even receive the updates in the first place, you'd have to sign a contract with your provider who would then manage upgrades for a specified period of time and for a fee.
Better Warehouse Performance = Higher Profit Margins: Logiwa syncs accurate data across your entire interface so the inventory numbers you see on your dashboard are what your employees see on their devices. Learn how Logiwa uses real-time data to help you get up to 100% inventory accuracy and 2.5x shipments.
Which Warehouse Functionalities Should my Cloud WMS Support?
The goal of any WMS solution is to help you put away, pick, pack, and ship as many orders as possible and as accurately as possible. It should boost the productivity of your warehouse and help you get more done with the same amount of resources or less.
To this end, ensure your cloud WMS software allows you to do the following activities.
Manage Several Picking Strategies
What's the best picking method? Well, that depends on your warehouse and its business.
Depending on your order volumes, you may use wave picking, batch picking, or any number of other methods. Your ideal picking method may even change over time.
As a result, you want a cloud WMS that gives you the flexibility to support the most common picking methods. You'll want a system that allows workers to pick multiple orders at once, pick orders based on zones, and more.
Cross-Docking
Cross-docking is a useful strategy, particularly among B2C companies that manage a large volume of orders.
Typically, incoming goods are processed, stored into inventory, and then picked only when an order comes in.
With cross-docking, goods don't go into inventory. Instead, incoming goods are processed and prepared for delivery before being placed on an outbound truck.
Of course, running a successful cross docking operation is rather complex.
You need to plan so that only goods that require cross-docking (e.g., frequently ordered items, urgent deliveries) are cross-docked.
You need to schedule strategically so that you have enough space in the docking area to manage the on-the-spot transition from the inbound logistics section to the outbound logistics section.
Finally, you'll need to coordinate all of the different people and activities to ensure you don't introduce bottlenecks to a process that's supposed to streamline operations.
Managing all of this - the planning, scheduling, and coordination - requires a robust cloud WMS to keep everything running smoothly.
Efficient Packing Operations
This one depends on how complex your current operation is. Your warehouse's packing operation likely includes the following activities:
Finding and selecting the correct box
Finding and selecting the appropriate packing materials
Manipulating and rotating items to determine how best to pack them within a box
Sealing boxes properly
Preparing shipping labels
Printing shipping labels
Affixing shipping labels
All of these steps take time and, since packing is a very labor-intensive process, it makes sense to streamline as many of these steps as possible. Depending on your needs, you could purchase a cloud WMS that supports features like:
Box Selection Algorithm: The system tells workers which box to pick based on the size of the product. Not only does this save time, it also reduces material costs. To speed things up, workers often pick the first box they can find, which means a small item might be placed in a massive, more expensive box.
3D Packing System: A 3D Packing system shows workers exactly how to place several items into a box so that they all fit inside. While this remains a manual packing process, it's now semi-automated, since workers are not rotating objects to find the best fit. They're simply following directions on a screen.
Automatic Sealing and Taping Machines: This may not be necessary at the beginning, especially since it requires purchasing an additional piece of equipment, but it's worth checking whether your preferred cloud WMS could support it down the road.
A Cloud WMS Can Generate Tremendous Value For Your Warehouse
A cloud WMS delivers instant value without the upfront costs and long-term management responsibilities of on-premise system.
In addition, the overall quality of cloud WMS solutions goes up every year as more enterprise software providers, including legacy providers, move their solutions to the cloud.
In fact, by 2020, over 80% of enterprise workloads will sit in the cloud, pushing all providers to create more configurable, flexible solutions with security in mind.
Investing in a cloud WMS is worth it, for both the upfront cost savings and the long-term increase in productivity.
Related Posts
Ready to see the most powerful warehouse management software in action?
Ruthie is a content marketing consultant for Logiwa. Her specialties include small business development and inventory management.