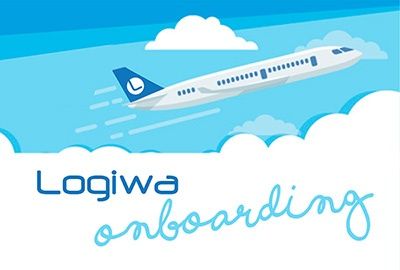 Welcome aboard to Logiwa WMS' flight! With the fast paced work environment at Logiwa, it sometimes gets overwhelming. Get ready to fly high at this enthusiastic, dynamic & young environment. As we are always ready to improve our implementation methodology, here are a few safety instructions to onboard our new employees;
Carefully stow your hand luggage in the overhead bins
Remember your first day at work? Was it too stressful, not knowing what to do, trying to figure out who to talk to and what time is the lunch at? With too many unknowns lying ahead, it may be understandable. At Logiwa we want our new employees to "hit the ground running" if not "flying "and for that we try to minimize the first day stress before new hires even come to the office.
New employees at Logiwa receive an "electronic welcome package" a week before their first day at work. This carefully created welcome package will serve as their hand luggage, being right next to them whenever it is needed. It includes the details of the company history, core values, links to company videos, what a new employee should expect during their first day, week and month and the orientation program created specifically for them. Also, a day before starting, direct supervisor of the employee calls him/her to make sure that they know where to show up, how to get there and when.
With all this preparation, we recommend our new hires to "carefully stow their stress in the overhead bins" and get ready flying with Logiwa!
When the seat belt sign is on, fasten your seat belt, keep it fastened and visible while seated
Before our new employees arrive, we make sure to have a place ready for them to sit, we decorate their desk with goodies, we add a small map of the office area and the wi-fi password to their "welcome pack". We know that these simple but practical things help ease the first day jitters and create a warm welcome. We also know from experience that removing first day anxieties helps people focus on getting to know the team and the product better.
After getting their table, their laptop and all the other gear ready for our new employee, first thing we do is to help them understand the priorities and the focus of their new department. We discuss the team goals and their key performance metrics together with the new hire and make sure they understand and comfortably except what is expected of them.
Both with our customers and employees, one of the key things that we want is to avoid confusion. We always aim to make our product and organization cleverly simple and clear.
We know that if an employee is confused, he/she will spend unnecessary energy and time wondering and worrying about what he/she is doing and this is exactly what we try to avoid. Being open with the goals and priorities, helps them focus on the right things and gives them a target to aim for.
Goals & roles are the seatbelts that carefully keep the employee in track and we make sure they are always in perfect comfort level that is never too tight or loose and that is always visible & open to dialogue.
There are several emergency exits on this aircraft, please take a moment to locate your nearest exit
As part of their "pre-departure duties", managers introduce new employees to the team and help them understand the colleagues' role in the company. They help the new employees to understand how they will be supervised throughout their Logiwa journey and introduce them to the colleagues who can help them when they have questions. We schedule time with new hires to meet with the managers in the organization to get an idea of what everyone does. This gives insight into how each team is working toward each other and along with the company vision. This helps our new employees a lot to learn whom they can go to for what. Knowing who to go to when have a questions is like locating the "emergency exists"
Each employee is unique and we appreciate and cherish the uniqueness. Some employees require more feedback while others may want to learn about their role in a different way. We believe that each employee should be coached and trained the way they want to be, so we try to personalize the onboarding process as much as possible.
In case of loss of cabin pressure, oxygen masks will drop down automatically. Pull the nearest mask over your nose & mouth and make sure its well-adjusted before helping others.
Managers are great but buddies are greater! We assign a "buddy" to each new employee and help them bond with their "buddies". For the first month of the employee his/her buddy accompany them on their trainings, projects and on all their assignments.
Having a buddy to consult the first month makes it easier to ask questions, and asking questions will lead to less confusion and a better learning experience.
Questions are the shortest path to the answers! Emphasizing that a big part of job is answering the questions of our customers, we encourage the new hires to ask their buddies questions on whichever is unclear in their minds.
Being new at work isn't so different from being the new kid at school. Having a friend on the first day who helps with everything is simply priceless.
Buddies also create a bridge with the new employee and the rest of team and create connections with them.
Set your mobile phone and all your electronic devices to flight mode for takeoff and landing
Turn off your mobile phones- it's networking time! At Logiwa, both managers and buddies help new employee on building a social network. They always involve him/her to lunches and team events.
Lunches are always great! It's nice eating with new colleagues, and getting out of the office encourages new employees to chat about things outside of work which helps ease the stress and creates bonds.
Every Friday at the end of each month, we have a "Happy Hour" (happy couple of hours to be preciseJ ) to share and enjoy with all the team. There, the new employee gets to know the whole team, if not he/she already did, and all the other fun facts about the team members beyond work.
For take-off and landing make sure your tray table is closed, your window blind is open and your seat belt is fully upright
When all the trainings are given, roles & goals are described and team bonds are created, we go through the "onboarding checklist" one last time and confirm that all is set for the employee "take-off". We make sure everything is bright for the new member of our family, and we aim to maintain this brightness, having the window blind open all the time.
For the following six months, once a month, managers set up onboarding check-ins for the new hire.
These check-ins aim to keep the new hire's motivation, courage up and make sure his/her seat is at upright position.
We believe that training is fuel for the onboarding engine and without one, the other will surely suffer. Simultaneously with the onboarding, we follow the training program that we create for our new employee. We put a great importance on the new- hire training program and try to consider all the little things that an employee will need to succeed at their job. Trainings cover the best practices, programs that are in use, details of the software& the databases used and have the goals clearly stated.
Here at Logiwa, we carefully select the talents and we feel like we don't hire an "employee" but we "join a new family member". So on their first day and always, we want to keep them excited, happy and engaged for the long haul. We know setting up someone for success takes time, it requires both sides to be patient and it's not easy at all, but it's definitely worth the effort.
Also, we know that the first impressions are very important and we only get one chance at first impression, so we want a new employee to have an amazing experience joining our company and the team. Onboarding plays a crucial role on getting new employees feel to be a part of the team. According to Officevibe's state of employee engagement survey, 69% of employees are more likely to stay with their company for 3 years if they experience great onboarding.
Getting feedback on the onboarding process is the only way to know if employees are actually benefitting from it so at the end of each new employee onboarding, we ask them to evaluate the process and help us get better on it.
On behalf of Logiwa WMS Airlines and the entire crew, we'd like to thank you for joining us on this trip and we are looking forward seeing you on board again in the near future.
Merve Doruk is the Customer Success Executive at Logiwa WMS.