What Is WMS Software?
Chances are, you are familiar with the acronym WMS. But do you know what WMS actually stands for? More importantly, do you know what WMS software does and how it serves warehouses and 3PL operations? If not, you're in the right place.
Here we'll explore:
What Is WMS?
What Can a WMS Solution Do?
What Are the Benefits of Using WMS Software?
3PL WMS Solutions
Although commonly recognized and often referred to as "warehouse management software", WMS actually stands for "warehouse management system" – which makes sense considering WMS software consolidates multiple management processes into one solution.
At first glance, WMS software may appear to be a complicated tech solution for managing inventory in a warehouse or distribution center… something you can technically do on your own. But if you take a closer look at the intricate functions WMS software performs and the direct effects it has on fulfillment success, you will quickly realize why many warehouses and fulfillment operations cannot succeed without a dedicated WMS.
No matter how many employees you add to your teams, or warehouses you incorporate into your fulfillment network, modern commerce has rendered many manual fulfillment processes ineffective and risky. The average warehousing business simply cannot keep up with the speed of today's e-commerce world, nor the unforgiving demands of consumers, without the help of a WMS.
When outdated methods, manual tracking, and ERP systems just cannot cut it – WMS software offers a path back to smooth operations. Here's everything you need to know.
What Is WMS? 
WMS software keeps inventory moving through a warehouse in the most efficient and cost-effective way possible. It provides practical inventory management to optimize the actions being taken within a given workflow. If it impacts your warehouse or fulfillment center operation, a WMS will have some kind of record of it. That includes inbound and outbound processes.
A WMS solution unites all isolated warehousing processes under one "roof" to keep internal processes and their connection to supply chain systems flowing harmoniously together. This unified interface allows for better end-to-end fulfillment because you can see all the important aspects of your business at once. WMS solutions often incorporate mobile devices along with barcodes, RFID scanning, etc. for items to streamline warehouse operations and workflows as much as possible, as well.
A WMS platform is ultimately concerned with three primary objectives: organizing inventory, automating internal warehouse processes, and integrating with online channels.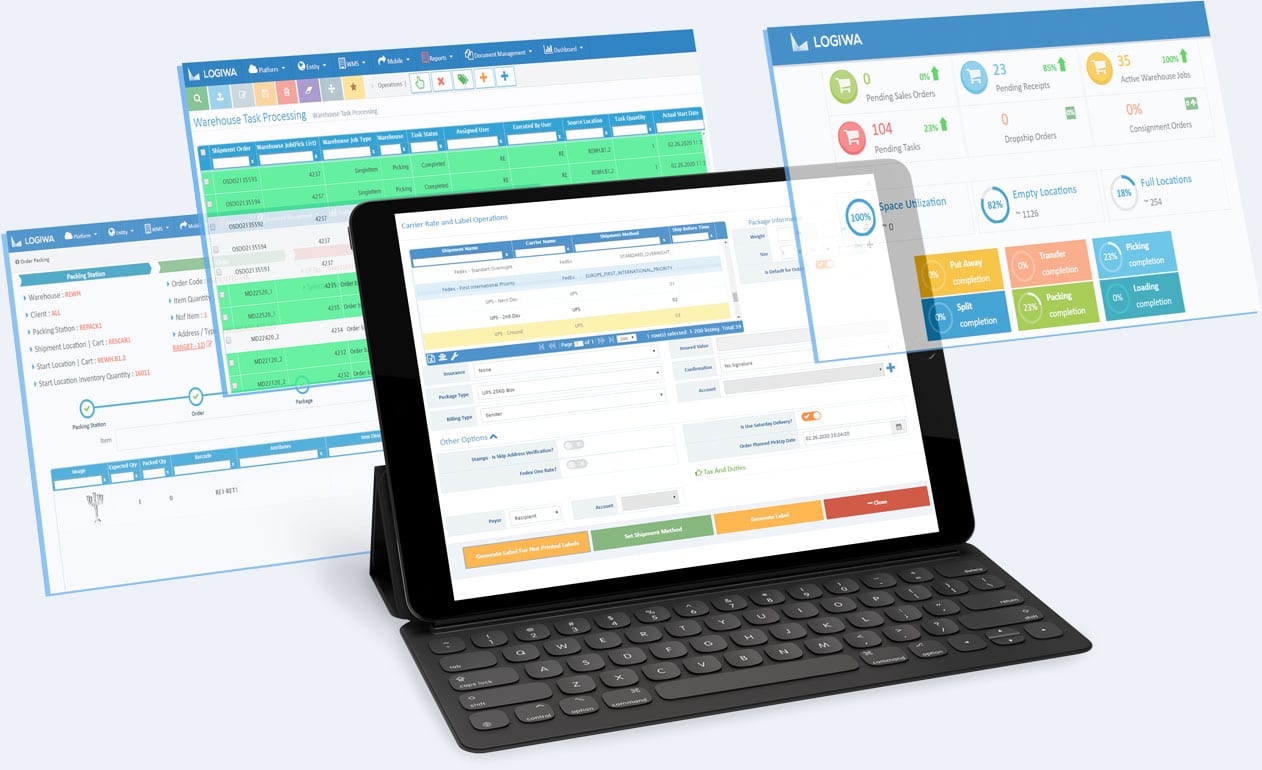 Transform your warehouse to a DTC fulfillment center
What Can a WMS Solution Do? 
Now that you understand what WMS software is, let's break down what it can do for you warehouse operation. In the time between you receiving a product and the moment you're handing it off to a carrier for shipment – a great many things happen. WMS software helps to automate and simplify those key processes:
Inbound logistics: Receiving inventory, smart put-away
Inventory management: Tracking items through each stage of your workflows, cycle counting, wave planning and order allocation
Fulfillment management: Order picking, packing, replenishment, and shipping
Labor management: Stock locating, task interleaving, automated materials-handling equipment interfaces
WMS systems resolve fundamental inefficiencies that occur with a warehouse, especially when it comes to fulfilling high-volume demands.
What Are the Benefits of Using WMS Software?
You now know how WMS solutions can assist with warehouse operations. But the benefits extend far beyond the aforementioned items. Here are the top benefits of using a WMS:
Reduction in Labor Costs: Automating warehousing processes like order picking and packing not only increases the overall productivity of a warehouse but reduces the need to bring in more warehouse employees when seeking to keep up with demand. As a result, foot traffic is cut down, fulfillment can happen faster, and labor costs are maintained or drastically reduced.
Accuracy: WMS solutions keep your inventory highly organized by turning processes like picking and packing into a science and helping you maintain a perfect inventory. They curb the risk of fulfillment issues caused by human error by regulating every major aspect of your warehouse. As a result, you have better insights into your available inventory, replenishment needs, potential inventory issues, and fulfillment needs.
Visibility: Using a WMS solution allows all the data within your warehousing network to be centralized and used to do things like provide order tracking and real-time delivery estimates for customers, better customer service, and improved business or billing processes that are not functioning as well as they could. With a WMS solution backing your operation, you will always be abreast of any issues that arise.
Competitivity: When you are able to offer high-value fulfillment options like kitting, self-serve billing, SKU proliferation, order customization, your business differentiates itself from your competitors. Adding these options is greatly facilitated when utilizing WMS software, and they not only improve your customer satisfaction but your ROI as well.
Scalability: As your operation becomes more complex and takes on more inventory, customer orders, or clients, your fulfillment network will need to expand. With a WMS, you can confidently scale your operation without fear that you are risking fulfillment success. Whether you're a 3PL/4PL running complex fulfillment operations or you're taking your own brand Direct-to-Consumer (DTC), warehouse management systems provide the security needed to grow while helping you deliver order fulfillment excellence.
A WMS system allows warehouses to optimize their operations and add value to pre-existing fulfillment processes without adding extra work. Through AI-powered automation, increased levels of visibility, and extreme accuracy, implementing cloud-based and mobile-friendly WMS software is the way of the future and what leading high-volume DTC businesses are doing today.
3PL WMS Solutions
Third party logistics companies (3PLs) are among the firms who benefit most from WMS implementation since their fulfillment operations can be quite complex and typically scale across multiple locations. With a 3PL WMS, it is easy to bring on new clients, expand ranges of products, and add new warehouses into your network.
With a 3PL WMS, your clients can have shared visibility into their inventory and orders: Where items are in the fulfillment process, which carriers are getting used, and all the related costs. With a 3PL WMS, you can even enjoy features like smart shipping, so you can guarantee your clients are paying the least amount possible for the shipping they require.
These warehousing and 3PL needs are exactly why LOGIWA WMS was created. .
Our DTC high-volume fulfillment WMS helps 3PL centers and companies that ship directly to consumers scale their direct-to-consumer fulfillment operations. Our cloud 3PL software can be up and running in just four weeks with simple pay-as-you-go monthly pricing. With Logiwa 3PL WMS you can easily expand your operations and grow your 3PL warehouses with confidence.
Ensure your DTC strategy is successful with scalable fulfillment operations
3PL
Cloud 3PL software for high-volume fulfillment excellence