Choosing the right software solution to streamline and manage your warehouse is crucial. A warehouse cannot function without the right management system, but selecting the best option for your business can be an intimidating process.
You can use two systems for managing your warehouse: Warehouse Management Systems (WMS) or Enterprise Resource Planning (ERP). Similarities between the two cause people to use the terms interchangeably, but they are distinctly different systems that have their own set of attributes.
While deciding on the best solution for your warehouse, you'll want to first outline your business needs. Then select the best option based on the features you need.
BONUS: Before you read further, download our Warehouse Management Software Whitepaper to see how Logiwa uses real-time data to help you get up to 100% inventory accuracy and execute advanced fulfillment strategies like wave planning.
Here's a breakdown of WMS and ERP and how they can help your warehouse.
What is a WMS?
WMS stands for Warehouse Management System. It's used to manage the storage, order processing, and movement of inventory within your warehouse. You can track the progress of every stock item: from receiving, picking, packing, and shipping. A great WMS should let you know where your inventory is in real-time.
You can also optimize your inventory with the use of that data. A WMS provides detailed inventory reports and shows you the best location for each item based on historical trends and data. You can even use it to guide operations during unique times, such as holiday seasons, peak times, and special deals.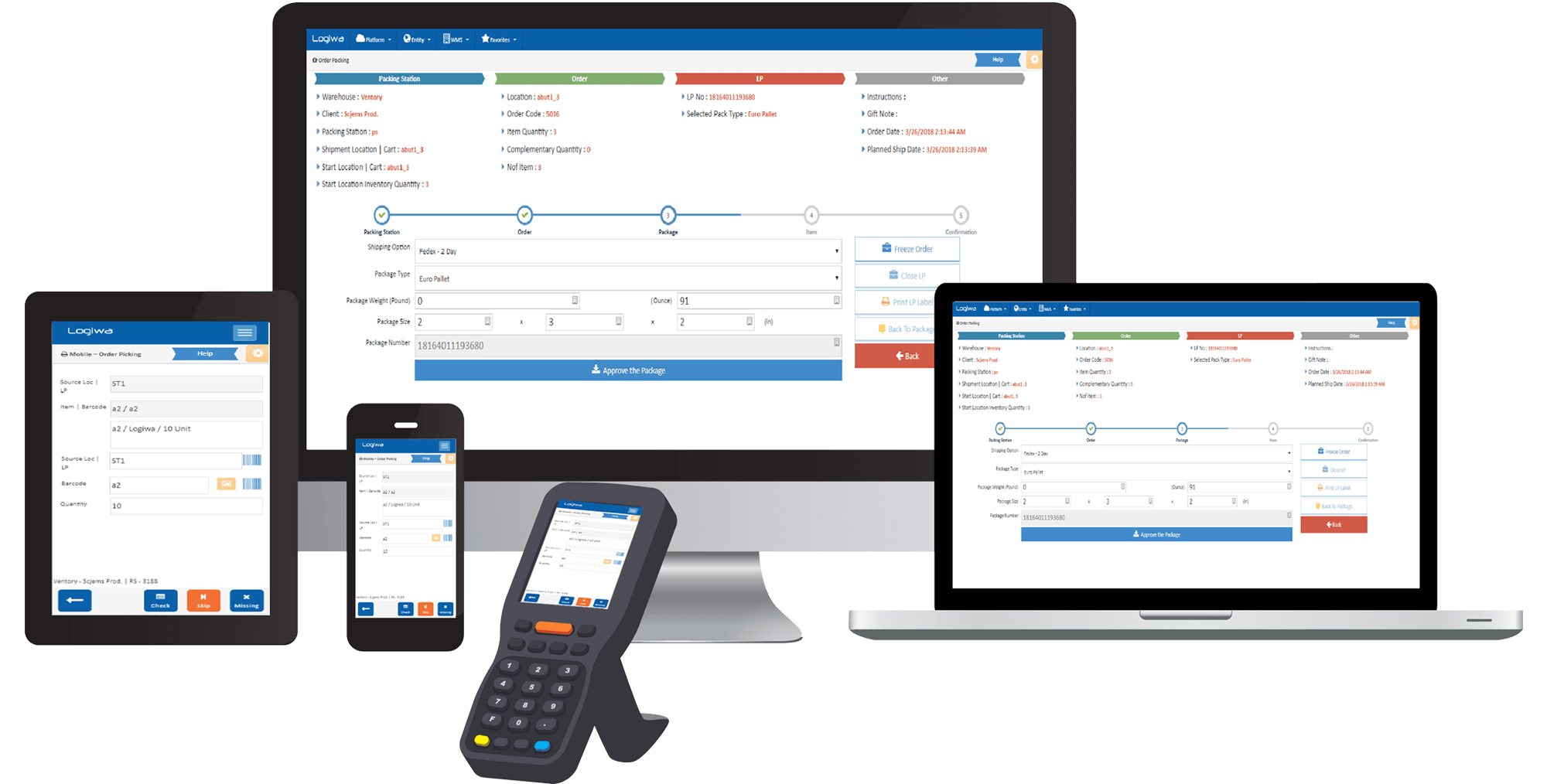 Integrating with a WMS can increase productivity because many WMSs can produce optimal picking routes for your employees. Picking can be an enormous overhead expense — some experts estimated over 60% of warehouse labor costs.
Efficient picking can also help reduce shipping errors, which account for 54% of returns, according to a small study. The more you can reduce your picking costs, the more profitable your warehouse will be.
You can also separate the product available from the product already allocated to an existing order. This segmentation can help you determine when an item's inventory is getting low, and can prevent the dreaded out-of-stock status.
A WMS also enables a seamless link from order processing and logistics to picking, packing, and shipping product out of the facility. It's an essential feature if you're managing inventory that gets sold from various touch points like your website or a marketplace like Amazon. You can track sales from all locations.
A WMS is a "standalone" system that specializes solely in making sure that your warehouse is as efficient and coordinated as possible. The very best-in-class WMS will have seamless integrations that allow you to connect your:
Ecommerce platforms
Marketplaces
Accounting platforms
Shipping carriers and more
This will allow you to use the very best systems for your business in every department.
Take Your WMS a Step Further With Advanced Features
Although many WMS offer robust features, they're not all created equally. You can get the most out of your warehouse management system choice if it has these additional features.
The cross-docking feature of some WMSs gives employees the ability to receive and ship products without needing to put it away. You can save a lot of money and storage space. In fact, a 2011 survey of warehouses who use cross-docking saw improved service levels, reduced transportation costs, and consolidated shipments as the greatest benefits.
Having an Open API (Application Programming Interface) allows you to customize the data shared between your WMS and your other software.
An API allows for faster innovation and breaks down communication barriers to make sure that your company is working as successfully as possible. It also means that you can have the best of every application without needing to worry whether it will work with your WMS.
WMS Pros
WMSs are adaptable based your needs.
It's focuses on real-time operations, so it can change and grow along with your inventory.
Multi-functional components mean that your warehouse will be as efficient and productive as possible.
Reports give you the information you need to predict your inventory needs, even during special events.
Cost-savings. Between the time saved during your picking process and all the additional benefits of advanced features such as cross-docking, you will save money.
It's a lower risk investment and ensures that your warehouse will be run properly.
Its API component allows it to communicate with your other business applications.
WMS Cons
You'll need to set aside onboarding time to set up all of your warehouse locations, inventory, and processes.
WMS only covers your order fulfillment, inventory and warehouse management.
What is an ERP?
The other option for your warehouse management is an ERP or Enterprise Resource Planning.
Despite its name, both small and large businesses use it. To stay competitive, companies want an efficient way to store and access their information. An ERP seeks to do that by streamlining all of your processes and data into one comprehensive solution.
While a WMS concentrates solely on the warehouse inventory, an ERP automates across all of the departments in your organization. You can merge departments such as accounting, purchasing, inventory management, and customer relationship management into one complete system.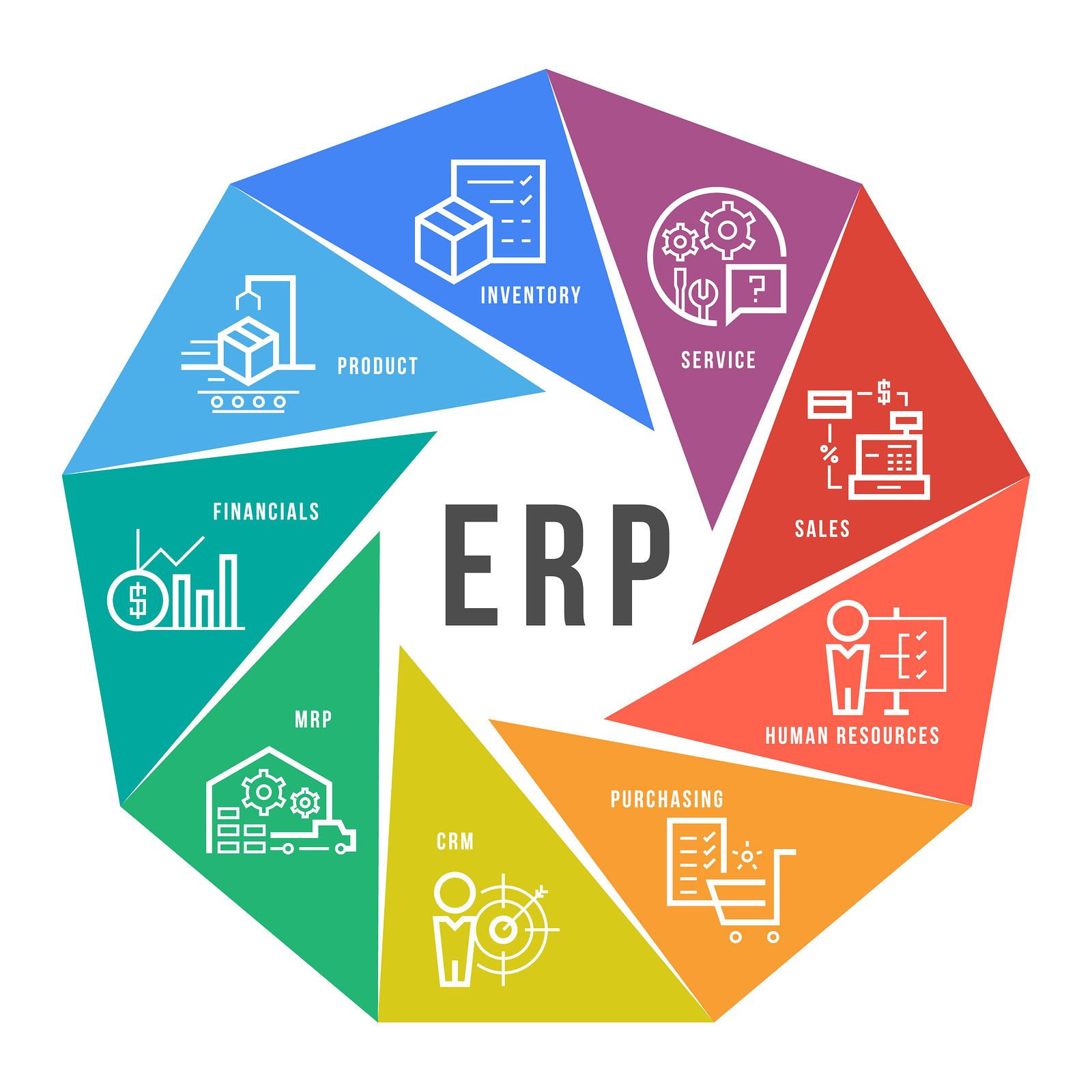 An ERP does contain some of the same capabilities as a WMS, but they aren't in-depth like what you find in a WMS. You can track inventory items, and it will tell you when items are picked, packaged, and shipped.
However, the goal of an ERP is to facilitate the flow of information between all areas of business. You can give everyone in the company, whether customer relations, accounting, or otherwise, visibility into the workings of the organization.
However, the all-in-one system of an ERP means that it doesn't always work well with other programs. It's counter-productive to have more than one software running your operations with different vendors.
Using other software along with an ERP can create significant problems with duplicate entries that will result in a loss of productivity and efficiency.
ERP Pros
An ERP streamlines all platforms. If you want to avoid finding other modules to run different parts of your business, an ERP can make it simpler for you.
Because it includes all parts of your business, it makes the warehouse functions seem like a "free bonus" that comes along with operating everything else in your company.
You can automate different aspects of your business, which can increase productivity and efficiency.
ERP Cons
An ERP can cost more in implementation and in the long run. You may have to purchase workarounds to compensate for the absent functionalities. For example, if you need more warehouse help, you'll need to buy systems that will not interfere with the ERP system.
API is an essential factor for sharing data with vendors and flexibility with other modules. An ERP doesn't offer this kind of flexibility.
An ERP lacks an in-depth look at inventory and reporting to help maximize your space and increase efficiency.
ERPs are rigid and transactional because they operate across multiple departments.
Cost? Length of time you're locked into contracts?
ERP is a jack-of-all-trades platform, with small components for each department, with limited specialized functionality.
Which Management System is Right for You?
Each warehouse has different challenges, goals, and budgets. There are a few factors to keep in mind when deciding which management system works well for your specific needs.
Long Term Goals
First, what are the long-term goals of your business? What are the functional requirements that will get you there? Take some time to define the measurable outcomes that you want to achieve and what functional requirements your business needs to reach them.
Technical Requirements
Next, look into all the technical requirements for moving and storing your product. Do you use equipment your system needs to integrate with? This analysis will help you avoid problems related to your storage and delivery. You need continuous receipt, storage, movement, distribution, and dispatching of goods to make sure that your business isn't interrupted
Return on Investment
Lastly, calculate the return on investment (ROI) of each system. You can get this by matching the costs of your long-term goals and necessary functionalities of your system to the implementation and integration costs.
Looking beyond implementation and integration, how will the increase in productivity positively affect your bottom line? Each operations area of your warehouse will be affected by your software, so you need to analyze the potential for improvement and growth in those areas as well.
Does the system work well in all of the countries you currently do business? What about the areas where you would like to do business? You don't want to implement a system that can't support your expansion effort.
Which System Do You Need?
What are your long-term business goals?
Do you use (or plan to use) equipment your system will need to integrate with?
Calculate ROI by assessing each area of your operations, and consider how the system will improve productivity.
Does the software work in the countries where you do business?
Better Warehouse Performance = Higher Profit Margins: Logiwa syncs accurate data across your entire interface so the inventory numbers you see on your dashboard are what your employees see on their devices. Learn how Logiwa uses real-time data to help you get up to 100% inventory accuracy and 2.5x shipments.
WMS and ERP Points of Comparison
These factors can help you to get a better understanding of what might work best for your warehouse. Here are some other comparison points to keep in mind when you consider which management system you'd like to adopt for your business:
Adaptability
ERP systems are based upon transaction logic, which means they're suited for environments where there are limited exceptions. Because they work across multiple departments, they can't afford to spend time on flexibility.
If your business is likely to change or have a shift in priorities, a WMS works better. Your system will be more adept at handling the changes and fluctuations in a warehouse because it's focused on real-time operations.
Usefulness
The most important factor of all, is how much value will it be giving your warehouse? An ERP does offer short-term value because business owners don't have to consider the different factors of their warehouse and can purchase one system that will handle everything.
However, as your business expands, an ERP may not have the scalability or cost-saving functions that a WMS offers. Not only does a WMS help to save you money (by reducing storage space needed), but it also helps to make sure you have the best-run warehouse, and offers the efficiency that can help your business grow.
Compatibility
How well your management system can integrate with other systems is a significant factor in your ROI with each solution. It can have a negative impact on your customer relationships if your system doesn't integrate well with theirs. With API, a WMS can seamlessly share data with other applications when it's needed. However, an ERP might struggle if there are other applications.
Workarounds can also be a significant cost when it comes to figuring out the cost of a system. Because an ERP lacks the scope of a WMS, it might be necessary to include workarounds to get some of the functionality that a WMS offers. About 65% of ERP implementations go over budget due to required modification expenses. Users don't know about the needed modifications until after the implementation has started.
Performance
An ERP is not well suited for in-depth tracking. The more complex your system is, the more likely that you'll need a WMS. An ERP also often has to conventionally force significant operational compromises in complex operations. An ERP lacks the specialty required for a more complicated system, but a WMS has the in-depth function and real-time operations that allow it to take on involved operations.
With the bare-bones value that an ERP offers, it's no wonder that 56% of manufacturers and distributors found that their ERP isn't enough to complete their order fulfillment. You can get more from your software by using a WMS.
Price
For both types of systems, pricing happens primarily by quote. You can expect to be charged per number of users for both WMS and ERP. However, the best WMS will allow you to scale up the features you need based on the number of warehouses your operations.
In addition to charging per user, ERP software companies also charge per module. So you have to purchase various modules to get the level of functionality that make ERPs a tempting business solution. Small businesses should expect to pay $25,000-100,000 when implementing an ERP. Enterprise businesses should expect to pay $1 million.
WMS: The In-Depth Solution to Your Warehouse Needs
Both a WMS and ERP offer warehouses the technology they need to function. They both also have strengths based on your long-term goals and the functionalities required for your management system. However, a WMS has more to offer your business with its adaptability, value, and superior performance.
The argument over all-in-one versus best-of-breed has been up for debate since the rise of the software as a service model (SaaS). However, most warehouses could benefit substantially from the API compatibilities and in-depth cost-saving analysis offered by a high-quality WMS.
For most new businesses, it might be difficult to think of investing in a WMS. But, a WMS can offer in-depth help to improve productivity in your warehouse. It seamlessly integrates with your other programs so you can have the best applications across all areas of your business.
To get the most out of your business, give the Logiwa WMS a try today.
Ready to see the most powerful warehouse management software in action?
Ruthie is a content marketing consultant for Logiwa. Her specialties include small business development and inventory management.